Jurassic World: Dominion Dominates Fandom Wikis - The Loop
Play Sound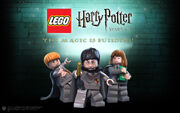 LEGO Harry Potter: The Complete Franchise is a video game based on LEGO Harry Potter movies. It includes many levels, from Hagrid taking Harry Potter to Diagon Alley for the first time to Harry defeating Lord Voldemort for the final time. It is based on Harry Potter and the Sorcerer's Stone, Harry Potter and the Chamber of Secrets, Harry Potter and the Prisoner of Azkaban, Harry Potter and the Goblet of Fire, Harry Potter and the Order of the Pheonix, Harry Potter and the Half Blood Prince, Harry Potter and the Deathly Hallows Part 1 and Harry Potter and the Deathly Hallows Part 2.
Gameplay
Unlike the first game, this one has much shorter levels. This was done because of the high amount of levels (40 in story mode). There is also less characters, but still, many are included. There is also more vehicle gameplay in this game, because levels like "Flight to Hogwarts" and "Battle over Little Whinging" are were you ride the vehicle through the level.
There is less bonus levels in this game, only being one for each movie. You have to play as the final boss of that movie and the puzzle boss. You have to find 1,000,000 studs in the enviroment you are in.
There is also free play in this game, but the only useful thing about it is that you can use it to find the gold brick in the level. There is one gold brick in each level, and getting it for every level will help you complete the game 100%.
The game has nor variations of characters, and different variations of characters can only be played as in story mode of the level that that variant is in.
The game is similar to LEGO Indiana Jones 2: The Adventure Continues because there is 6 movies/worlds plus a super bonus level pack and a custom level maker. The difference is that custom and super bonus levels are changed to Deathly Hallows Part 1 and 2. Because of this, there is no level builder, but some bonus levels. (The bonus levels are similar to Indiana Jones' too.) Unlike Indiana Jones, there is free play.
Characters
Character
Abilities
Weapons
Image
Harry Potter

Magic 

Wingardium Leviosa
Focus 
Silver Breaker
Red Breaker
Lumos
Agramenta
Expecto Patronum
Elder Wand


Invisibilty Cloak

Wand

Invisibilty Cloak

Ron Weasley

Magic

Wingardium Levosa
Silver Breaker
Red Breaker
Lumos
Agramenta
Expecto Patronum







Delumante

Scabbers-Pigwigon

Wand

Deluminator

Hermonine Granger

Magic

Wingardium Levosa
Silver Breaker
Red Breaker
Lumos
Agramenta
Expecto Patronum 




Turn Back Time

Crookshanks

Wand

Time Turner

Hermonine,s Purse

Ginny Weasley

Magic

Wingardium Levosa
Silver Breaker
Red Breaker
Lumos
Agramenta
Expecto Patronum 







Arnold

Wand

Neville Longbottom

Magic

Wingardium Levosa
Silver Breaker
Red Breaker
Lumos
Agramenta
Expecto Patronum


Trevor

Dig

Wand

Spade

Luna Lovegood

Magic

Wingardium Levosa
Silver Breaker
Red Breaker
Lumos
Agramenta
Expecto Patronum

Wand

Quibbler

Professer Dumbledore

Magic

Wingardium Leveosa
Silver Breaker
Red Breaker
Lumos
Agramenta
Expecto Patronum
Focus
Elder Wand 

Wand

Hagrid

Magic

Wingardium Levosa
Silver Breaker

Wand Umbrella

Fang
Dig
None
Levels
Level
Playable Characters
Locations
Characters Tokens
Bosses
Diagon Alley Adventure

Harry Potter
Hagrid
Olivander
Griphook

Diagon Alley

Tom the Innkeeper
Olivander
Griphook

None
Battle in the Bathroom

Harry Potter 
Ron Weasley
Hermione Granger

Hogwarts

Wizard
Witch
Mountain Troll

Mountain Troll (3Hearts)
The Restriced Section

Harry Potter
Ron Weasley
Hermione Granger

Hogwarts

Argus Filtch
Firenze
Professer Quirrel (Cloaked)

None
The Forrbiden Forest

Harry Potter
Draco Malfoy
Fang

Hogwarts

Draco Malfoy
Fang
Doris Crokford

Lord Volermort

(3Hearts)

Professor Quirrel

Harry Potter
Hermione Granger
Ron Weasley

Hogwarts

Professer Quirrel
White Chess King
Black Chess King

Professor Quirrel

(4 Hearts)