LSWForum = LEGO Star-Wars Forum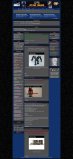 Alongside some of the most famous Forums for Legos or for their customzing, is the LSWForums [[1]]
This is a website still in the making, but has upwards of about 250 members, and it was started December 2009.
Here is the link to this wonderful site.
http://www.lswforum.net/portal.htm
The making of the LSWForums
Edit
The website was created by Lazerblade. It obviously took a while to be known, but now it's even reconginzed by one of the biggest search engines as an offical search.
It has become more than most people every thought possible.
Notable Members
Edit
The admins, and monitors are probably the most important part of the forum.
The list of Admins and other Staff.
Administrators (Sith Lords)

Monitors (Jedi Knights)
Retired Staff (Retired Jedi)
Community content is available under
CC-BY-SA
unless otherwise noted.