Jurassic World: Dominion Dominates Fandom Wikis - The Loop
Play Sound
The set The Mermaid's Tears is based off of Pirates of the Caribbean: On Stranger tides. It is based off of when the tears of the mermaid are taken to the fountain of youth. It will cost about $20. It will have 5 minifigures: Jack Sparrow, Blackbeard, Angelica, and Syrena, and Philip.
Set Description:
The set will be a small set. It will be a small pond where Syrena is put. The pond will have a stick with a rope to tie Syrena to. there will be trees and plants in the back like it is leading to a jungle. There will also be the glass case where Syrena was put in. The case will be able to fit Syrena. It will have stickers you can put on. They will be clear stickers with a sqwigly line to resemble to top of water. There will be 2, one for the back see through part and one for the front.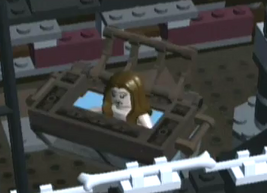 Minifigures:
Jack Sparrow: Jack will be like he appears in the Captain's Cabin set.
Blackbeard: He will be like he is in the set Queen Anne's Revenge. He will also have a bottle where he puts the tears of Syrena.
Angelica: Angelica will appear exactly like in the Queen Anne's Revenge set.
Syrena: Syrena will be like in the White Cap Bay set, except her tail will be diffiret. It will be straight like the old mermaids tail. This is done so she can fit in her case better and so she can be tied up more easily.
Philip: Philip will be like in Lego.com