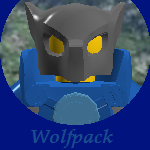 Wolfpack is a theme centered around Wolf-Owls, specifically their army. It is unique in that it has three types of sets. There are battle sets, which have members of both armies, as well as at least one bystander. There are also scenery sets, which just have scenery whitout minifigures, and battle packs which are just members of one army.
The first wave will be realeased in June, 2013
Minifigures
Edit
This theme will have a fair number of minifigures, which are:
TBA Red Wolfpack Leader
Red Wolfpack
TBA Arctic Wolfpack Leader
Artic Wolfpack
Zurg Batflock
Red Batflock
White Batflock
Blue Batflock
This theme will include fifteen sets, which are:
Goatherd House (Scenery)
City Street (Scenery)
Wolfpack HQ (Scenery)
Wolf-Owl's house (Scenery)
Arctic Wolfpack Vs. Blue Batflock
Blue Wolfpack Vs. Red Batflock
Red Wolfpack Vs. Zurg Batflock
Timber Wolfpack Vs. White Batflock
Batflock Battle Pack
Wolfpack Battle Pack
Arctic Wolfpack Battle Pack
Blue Wolfpack Battle Pack
Red Wolfpack Battle Pack
Timber Wolfpack Battle Pack
Community content is available under
CC-BY-SA
unless otherwise noted.